RECENTLY UPDATED:


Dec 2 - RJ. Mitchell 2010 Economic Forcast - Available here.
Oct 28 - RMLS Market Action Report - This page - below.
Oct 28 - Mortgage Update- This page - below.
Aug 26 - PSU Real Estate Quarterly - Located in the "Current RE Market Information" section at left.
Aug 25 - Case Shiller - Located in the "Current RE Market Information" section at left.
July 22 - Metro Residential Highlights- This page - below.
July 22 - Metro Area Time on Market Graph- This page - below.
July 15 - This month in Real Estate - July 09 - Located in the "Current RE Market Information" section at left.
July 6 - Univ. of Oregon Economic Indicators - May 09 - Located in the "Current RE Market Information" section at left.
---

Local Real Estate Market News

Follow Me On Twitter - *Read from Bottom to Top*
The may be a short delay while Twitter loads.........
---
Metro Area Time on Market - June 09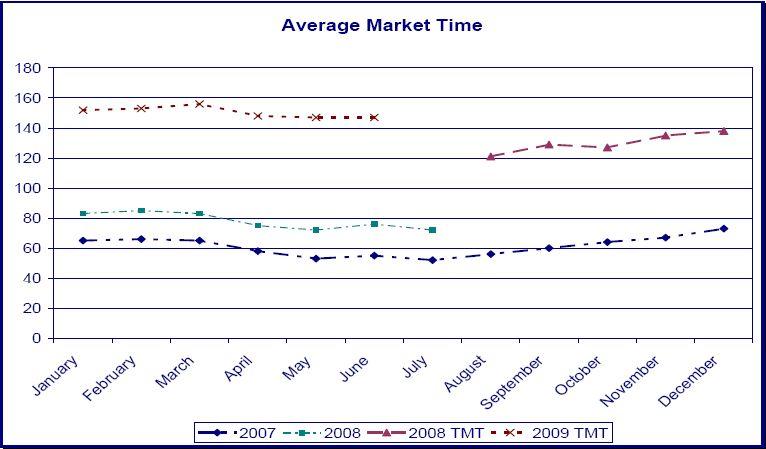 ---

Metro Residential Highlights
Inventory fell to 8.2 months,
dropping for the fifth consecutive
month and reaching it's lowest point
since August 2007.

Active listings typically rise at this
time of year, but were virtually
unchanged since May
(14,491 v. 14,493).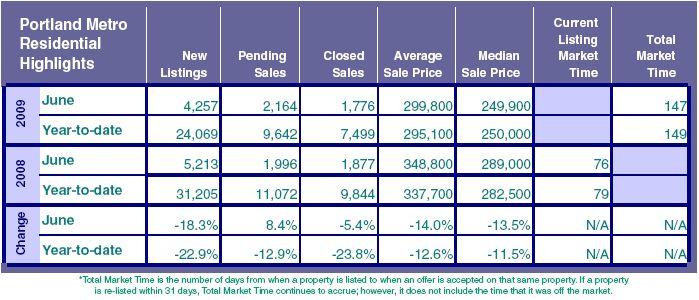 ---
10-28-09 Mortgage Update



Today's 30 year conforming rate - 4.75%
FHA - 5%
Jumbo 5.75%
MARKET ANALYSIS:
Mortgage bond prices remain are higher Wednesday morning adding to the gains seen Tuesday afternoon. Rates are finding support from lower stocks and weak housing data.
In news released this morning, durable goods orders in September rose 1.0% as expected. This data was bond neutral as it came in where it was expected. It is the surprises in the data that cause volatility. On the housing front, new home sales stood at an annualized rate of 402,000, much lower that expectations of 440,000. This is further evidence of the overall weakness in the housing market.
Traders will spend the day watching stocks to help gauge interest rate direction as they prepare for the Treasury auction of 41B in 5-year notes. Market participants are hopeful this auction goes as well as the 2-year did yesterday, which saw solid foreign demand. The last 5-year auction saw indirect bidders (foreign banks) purchase 44.8% of the auction. Think about that for a minute, almost half of the last auction, which is used to fund deficit spending, is owned by non-domestic entities. We owe China almost 900B dollars, YIKES!
This mortgage update courtesy of Pat Fox of Fox Financial NW. If you need mortgage assistance, you should give hime a call: 503-539-2974
---

2009 Tax Credit for First Time Home Buyers
According to the new legislation, a first time home buyer is defined as someone who has not owned a principle residence in the past three years. Those three years are counted up to the date you take possession of the house you buy in 2009.This means that even if you've owned a home in the past, you can still take advantage of the tax credit as long as you haven't purchased a primary residence since 2006.
The same goes for married tax payers - they must both be first time home buyers. For non-married joint buyers, only one of them needs to be a first time home buyer, or someone who hasn't owned a primary residence in the past three years.
Qualifying homes include:
New homes

Homes that are being re-sold

Condos

Townhomes
The main restriction is that the credit is only for those who buy a home as their primary residence.So investors looking to buy a rental property would not qualify for the credit. Howeverowning a vacation home or a rental property already does not neccessarily disqualify you from taking advantage of the credit (as long as you haven't owned a primary residence in the past three years).
A Look at the Numbers
The tax credit is equal to 10% of the purchase price of the home, up to $8,000. The amount of the credit you can qualify for is related to how much money you earn. Here's how the credit is scaled:
Single home buyers earning 95K or less qualify. If you make 75K or less, you qualify for 100% of the $8000. If you make halfway, 85K, you qualify for 50% or $4000. The credit phases out gradually between 75K and 95K of income. For example, if you make halfway between the income limits, 85K, you qualify for up to half of the credit.

The same rate applies for married couples and joint buyers whose incomes limits are doubled to $150,000 to $170,000. Married couples or joint buyers whose incomes are less would receive the full $8000 credit. At an income level of $160,000, halfway between 150 and 170, the buyers would receive half the credit – or $4,000. And the credit phases out altogether at $170,000.
This credit represent a significant amount of money. One of the biggest points of difference for the new credit from the one congress passed in July of 2008, is that the new credit does not have to be paid back.
In addition, it's refundable, which means that if you've paid all your taxes as you go with an automatic payroll deduction, you would receive an $8,000 check from the IRS.
If you're committed to buying a house in 2009 and want to use the $8000 tax credit for a downpayment, consult with your certified public accountant.
In Summary
Qualifying home buyers will need to make their home purchase between January 1, 2009 and December 1, 2009. And the home has to remain their principal residence for the following three years.
The new tax credit coupled with historically low mortgage rates and rising affordability, offers buyers a great opportunity if they act fast.
If you're interested in learning more about the new tax credit or about homes in your area, I'd be happy to answer any questions you may have.
---

Global Insight pegs Portland's 2009 home price loss at 7.6 percent:

The economics firm, in a report done for Greenlight Greater Portland, predicts that existing Portland-area home prices will fall another 7.6 percent this year. That's the fourth smallest decline predicted for 10 markets in the west. Here's the 10 followed by the forecast for 2009.



Albuquerque: -2.8%

Austin: -4.8%

Seattle: -7.2%

Greater Portland: -7.6%

San Jose: -9.8%

Denver: -10.8%

Los Angeles: -11.6%

San Francisco: -12.1%

San Diego: -16.5%

Sacramento: -18.7%


Between 2009 and 2013, Global Insight forecasts Portland-area prices will rise about 10 percent, the sixth biggest rise among the 10 markets.
---
Aug 2009 - Market Action Report.